When it comes to effective learning, there's more to it than someone standing at the front of a room talking with a bunch of people sat listening to them.
The environment in which that scenario takes place can play a huge role in how effectively people learn, and how creative they can be with the information they're given.
One report on primary schools found that differences in the physical characteristics of classrooms, such as air quality, colour and light, can together increase the learning progress of primary school pupils by as much as 16% in a single year. And while we're not suggesting that everyone should go back to primary school, it makes sense that the same kind of logic can apply to each level of learning.
So, what's the 'perfect place' to learn?
To make the best environment for promoting creativity, learning and student engagement, you first need to know about what an amazing learning environment is. Unfortunately, there isn't exactly a one size fits all approach.
Over time the way we learn changes, it becomes harder to learn new things, so the environment becomes even more important. You know yourself from your school or college days that you studied in a messy bedroom, and nowadays you find yourself saying 'a tidy desk is a tidy mind' before tackling something cognitive. This act isn't just procrastination, it's to enable us to not be distracted by the plethora of things around us. Go on take a look, how many 'things' are around you?
Ah look, you got distracted!
In order for a space to be purpose-built (i.e. for learning) every decision must be for the objective of that purpose. So, for example, having the AV and technology available and effortless to use and connect to. Hyper-fast Wifi and consideration to classroom capacity so people aren't overwhelmed by the noise us humans make in mass. Chairs that allow for comfort whilst also supporting your posture. The correct flooring to allow for great acoustics. Modular furniture to provide an array of choice to any layout.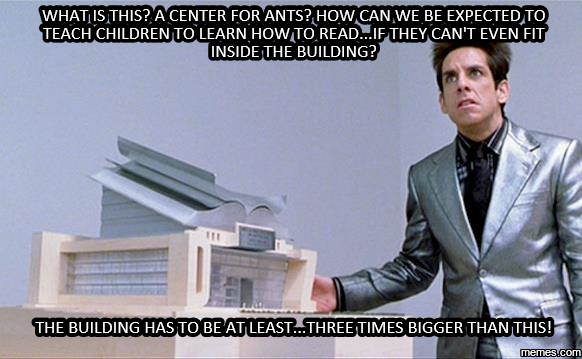 Most learners in a new environment need some basic instructions in order to focus purely on the subject. Therefore signage and 'housekeeping' allow the learner to be more comfortable in their surroundings.
Great learning environments are also inspiring. They reflect a new awareness of time, space and technology, and tons more understanding of how people actually get the most out of their education.
When it comes to adult learning, there's the benefit of knowing that, most of the time, people have actually chosen to be there. That helps hugely. So make it as accessible and engaging as possible, whilst not becoming a distraction. Use furniture to break up the space and provide moments of fun with quiet moments for reflection.
Fortunately, as adults, we encounter fewer and fewer things that we're forced to do, and learning is the same. Instead, we can choose to learn things that enrich our lives – whether that's a new hobby or a skill that's going to help us make our business a success. Digital skills are only becoming more and more valuable to business owners and individuals as the years pass, which is why digital skills training – particularly in areas like SEO and social media – is seeing such a boom in popularity. And, just like magic, that's where we come in! Hiya.
"Depending on your subject, learning environments need to be built for purpose. For example, if you were learning to do brain surgery, chances are you would need to be in a hospital. We deliver digital education, which is part technical and part creative. We build our office spaces and learning spaces to connect our people together, to give them space and everything they need to be as efficient as possible, whilst making it a fun and inspiring place to be. We have done that with the offices, and now we can do that in our own purpose built training centre. Without giving too much away, it will be a place of nostalgia and magic, whilst delivering all the logistics effortlessly."
– Danny Windsor – Giant Campus Business Manager | Snr Brand & Marketing Manager Sleeping Giant Media
Learn the GIANT way in our new training centre
For a lot of the digital marketing workshops we deliver, you'll find us at our agency headquarters in Folkestone, Kent. Previously this involved our infamous ball-pit and trendy bar area, but now things are getting even cooler if you can even start to comprehend that!
We have now acquired an extra floor here at GIANT Towers, which means we're able to create our very own dedicated training centre! The Digital Skills Hub!
Here we'll have everything we need to make sure we can explain the theory, as well as show you the practical side, of some of digital marketing's most valuable skills – including SEO, PPC, social media and creative content. All to boost your business's digital presence. WIth top-notch equipment, plenty of hands-on working spaces and room to move around and make the training your own, our new training centre is going to make the courses we offer here at Giant Campus bigger and better than ever before.
Tempted? We know you are. Sign up to be the first to hear about when our new training centre will enjoy its grand opening – who knows, maybe you'll be one of the first to enjoy its shiny new interior. We'll be hosting events in there too, and will make it a hireable space for you all to enjoy. We can't wait to see you all there!